Prices
Adults – $18 (Live Broadcasts)               $15 (Encore Broadcasts**)
Youth – $10 (Live Broadcasts)                $7 (Encore Broadcasts**)
Save 25% with a Season's Pass
Adult Pass – $93 (that's only $13.28 per show!)
Youth Pass – $48.50 (that's only $6.92 per show!)
$5 ShuGo passes available for youth at the Salmon Arm Arts Centre! Visit here for more information.
Buy tickets online here
At the Classic
RAYMONDA
Oct. 27 2019 – 1:00 PM
SYNOPSIS
Raymonda is betrothed to Jean de Brienne, a gallant knight who pledged to go on a crusade led by the King of Hungary. When her beloved leaves, Abderakhman, a foreign knight, makes a bid for the hand of Raymonda and threatens her fate when she rejects him. Raymonda is a must-see of the Bolshoi, a work of living dance history showcasing the ballerina as the ultimate virtuoso. Being one of legendary choreographer Marius Petipa's final works, he fully armed this ballet with beautiful court scenes, romantic corps de ballet dances, Hungarian czardas and a title role suited for the most outstanding ballerina.
Run time – 3 hours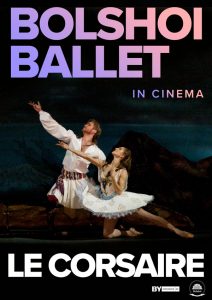 At the Classic
LE CORSAIRE**
Nov. 24 2019 – 1:00 PM
SYNOPSIS
On the bazaar square of Andrinopolis, the Pacha is struck by the beauty of Medora and tries to buy her, but the lovely young woman is not for sale. As the transaction is about to be completed, Medora is kidnaped by Conrad, a charming corsair (pirate) who catches her eye. Bolshoi Prima Ballerina, the "mesmerizing" Ekaterina Krysanova and Leading Soloist Igor Tsvirko ignite Medora and Conrad's passion with undeniable intensity. (The Guardian) Le Corsaire remains a breath-taking production reworked by Alexei Ratmansky, who has created enough dancing for nearly the entire troupe, along with luxurious cinematic sets and a shipwreck, bringing the magnificence of the Bolshoi to life.
Run time – 3 hours 30 minutes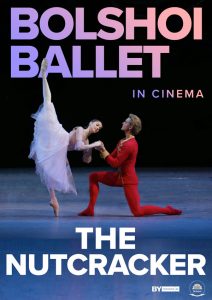 At the Classic
THE NUTCRACKER**
Dec. 15 2019 – 1:00 PM
SYNOPSIS
On Christmas Eve, the mysterious Drosselmeyer brings a Nutcracker doll as a gift for his goddaughter Marie. At midnight, the doll comes to life and finds himself in a battle led with the Mouse King, while Marie watches in fear. The Bolshoi's magical Nutcracker production captivates audiences of all ages and brings them on whirlwind journey of enchantment with rising star Soloist Margarita Shrainer perfectly embodying Marie's innocence and joy along with the supremely elegant Principal Dancer Semyon Chudin as her Nutcracker Prince. A timeless holiday classic accompanied by Tchaikovsky's beloved score.
Run time – 2 hours 30 minutes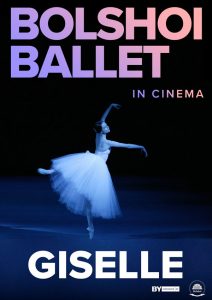 At the Classic
GISELLE
Jan. 26 2020 – 1:00 PM
SYNOPSIS
The young peasant girl Giselle dies of a broken heart when she learns that the man she loves, Albrecht, has betrayed her. Against her own will, she joins the Wilis, vengeful spirits of jilted brides who condemn Albrecht to dance until he dies of exhaustion. In this brand-new production of Giselle, world renowned choreographer Alexei Ratmansky brings a fresh perspective to one of the oldest and greatest works of classical dance, giving the audience an opportunity to discover this iconic ballet anew.
Run time – 2 hours 30 minutes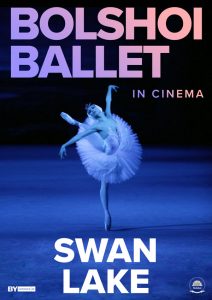 At the Classic
SWAN LAKE
Mar. 1 2020 – 1:00 PM
SYNOPSIS
Prince Siegfried is summoned by his parents to choose a bride. However, he encounters a mysterious and magnetic swan-woman, Odette, by the lake and is captivated. His vow of eternal love to her will have irreversible consequences. Tchaikovsky's essential masterpiece returns for a live broadcast of the most-beloved ballet in the classical canon. Technically challenging and filled with vibrant emotion, with a stunning and world-famous corps de ballet in perfect unison, the legendary love story between Prince Siegfried and the dual personalities Odette/Odile, born at the Bolshoi Theatre, is a must-see.
Run time – 2 hours 45 minutes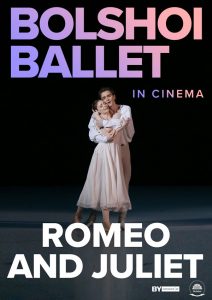 At the Classic
ROMEO AND JULIET**
Mar. 29 2020 – 1:00 PM
SYNOPSIS
Despite each of their families being merciless enemies, Romeo and Juliet are deeply in love. The rivalry between the two families will cost Mercutio's life, causing Romeo a desire of vengeance for the loss of his friend. The star-crossed lovers' tragic fate inspired Prokofiev's remarkable cinematic score, from the delicate theme of Juliet to the ominous Dance of the Knights. Bolshoi stars Ekaterina Krysanova and Vladislav Lantratov wholly embody the two eternal lovers in Alexei Ratmansky's stunning evocation of love at first sight.
Run time – 3 hours 5 minutes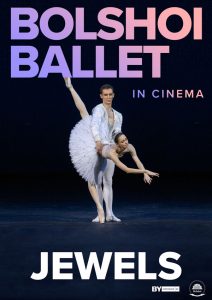 At the Classic
JEWELS
Apr. 19 2020 – 1:00 PM
SYNOPSIS
This opulent triptych was inspired by Balanchine's visit to the famous jeweller Van Cleef & Arpels on New York's Fifth Avenue, celebrating the cities and dance schools of Paris, New York and St. Petersburg, each bound to its own precious stone: emerald, ruby and diamond. Balanchine built an homage of captivating beauty to the three dance schools that had forged his style, each represented by a contrasting gemstone. Jewels offers a unique occasion to enjoy the genius of choreographer's visually captivating work performed by some of the world's most dazzling dancers in a live broadcast to cinemas.
Run time – 2 hours 45 minutes