General Info.
We are very excited to present the 2019/2020 season of the Met, broadcast live in HD and Dolby Digital surround sound from the Met Opera in New York.
All operas are sung in the original language with English subtitles. The run times listed include either one or two half hour intermissions, depending on the opera.
*casting subject to change
Pricing
Adults – $24
Students & Children – $18
Encore Pricing – Adults $16 & Youth $10 (applies to The Magic Flute)
$5 ShuGo passes available for youth at the Salmon Arm Arts Centre! Visit here for more information.
Save 25% with a Season's Pass!

Adult – $204
Youth – $152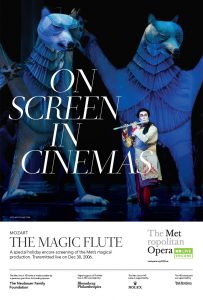 At the Classic
THE MAGIC FLUTE
Dec. 14 – 9:55 AM
SYNOPSIS
Celebrated director Julie Taymor, who brought The Lion King to Broadway, casts her spell on Mozart's The Magic Flute. Dancing bears, flying birds, even a giant serpent – all are brought vividly to life through Taymor's ingenious use of puppetry. This two hour version is sung in English and features an attractive young cast.
Run time: 1 hours 52 minutes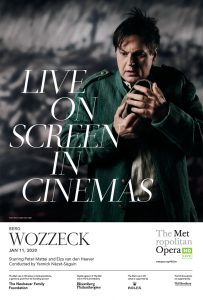 At the Classic
WOZZECK
Jan. 11 2020 – 9:55 AM
SYNOPSIS
Yannick Nézet-Séguin conducts William Kentridge's new production of Alban Berg's expressionistic masterpiece Wozzeck, regarded for its intense emotional power and brilliant score as one of the most significant operas of the 20th century. Composed during and in the 5 aftermath of World War I, Berg's dark exploration of a soldier besieged by the evils of society, is staged by Kentridge in a ramshackle warren of stairs, ramps, discarded furniture, and debris. His own theatrically animated charcoal drawings, along with other projected drawings, maps, and film clips, evoke a nightmarish world of crashed planes, searchlights, ghostly gas masks, and battlefields. Peter Mattei makes his role debut as Wozzeck opposite Elza van den Heever as Marie, the mother of his child. Singing the roles of Wozzeck's tormentors are Christopher Ventris as the Drum-Major, Gerhard Siegel as the Captain, and Christian Van Horn as the Doctor. Andrew Staples makes his Met debut as Andres. Kentridge, who previously directed Berg's Lulu and Shostakovich's The Nose at the Met, unveiled the new production at the 2017 Salzburg Festival, where it received critical acclaim. Kentridge's production is a co-production of the Met, Canadian Opera Company, Opera Australia, and Salzburg Festival.
Run time: 1 hours 57 minutes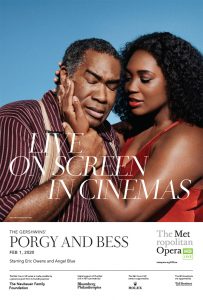 At the Classic
THE GERSHWIN'S PORGY AND BESS
Feb. 1 2020 – 9:55 AM
SYNOPSIS
The Gershwins' Porgy and Bess returns to the Met for the first time since 1990, in a new production directed by James Robinson in his company debut. America's "folk opera," as the 1935 creators described it, tells the story of disabled beggar Porgy, sung by Eric Owens, and his love for the drug-addicted Bess, portrayed by Angel Blue. David Robertson conducts a stellar cast that also includes Donovan Singletary as fisherman Jake, Golda Schultz as his wife Clara, Latonia Moore as the bereaved widow Serena, Frederick Ballentine as drug dealer Sportin' Life, Alfred Walker as the brutal stevedore Crown, and Denyce Graves as Maria, town matriarch and operator of the local cook-shop. Infused with the timeless melodies of the much-loved classics "Summertime," "It Ain't Necessarily So," "Bess, You Is My Woman Now," "I Got Plenty o' Nuttin," and "My Man's Gone Now," the new co-production with English National Opera and Dutch National Opera was hailed as a triumph at its premiere in London earlier this year.
Run time: 3 hours 40 minutes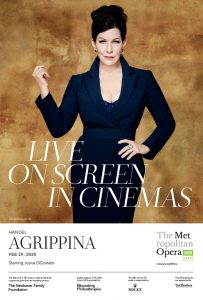 At the Classic
AGRIPPINA
Feb. 29 2020 – 9:55 AM
SYNOPSIS
In the Met's first-ever performances of Agrippina, Handel's satire of sex and power politics, Sir David McVicar reconceives a production he originally created for the Monnaie in Brussels in 2000, evoking a scandalous world in which the Roman Empire never fell but simply kept going right up to the present. Holding a distorted mirror to contemporary society (as Handel did when he staged this opera), the production presents the corrupt intrigues of the political classes, brought to life by Joyce DiDonato as the power-hungry empress Agrippina, Brenda Rae as the scheming, seductive Poppea, and Kate Lindsey as the feckless teenager Nerone. Iestyn Davies portrays the ambitious officer Ottone, and Matthew Rose is the emperor Claudio, on whose vacated throne Agrippina is determined to install her son. Renowned for his interpretations of the Baroque repertoire, Harry Bicket conducts.
Run time: 4 hours 10 minutes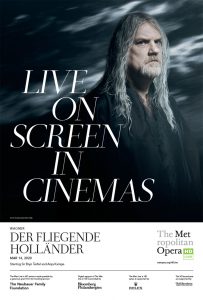 At the Classic
DER FLIEGENDE HOLLANDER
Mar. 14 2020 – 9:55 AM
SYNOPSIS
François Girard, whose mystical, blood-drenched vision for Wagner's Parsifal became one of the Met's most intensely visceral highlights in recent seasons, turns to another Wagnerian masterpiece, Der Fliegende Holländer, conducted by Valery Gergiev. For the first time at the Met, Sir Bryn Terfel sings the role of the mysterious Dutchman, condemned to roam the seas for eternity, with Anja Kampe as the devoted Senta, whose love can set him free. In a nod to Senta's obsession with a portrait of the legendary title seafarer, the Met stage is transformed into a colossal oil painting. Franz-Josef Selig portrays Senta's father Daland, Sergey Skorokhodov takes on the role of the huntsman Erik, David Portillo sings the Steersman, and Mihoko Fujimura is Senta's nurse Mary. Der Fliegende Holländer is a co-production with L'Opéra de Québec and Dutch National Opera, Amsterdam.
Run time: 2 hours 44 minutes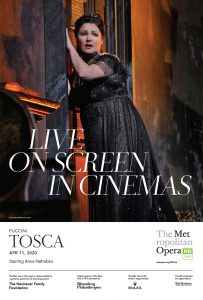 At the Classic
TOSCA
Apr. 11 2020 – 9:55 AM
SYNOPSIS
Sir David McVicar's bold staging of Puccini's operatic thriller returns to the Live in HD series after its acclaimed broadcast in 2017. This time, star soprano Anna Netrebko is the passionate title diva, opposite Brian Jagde as her lover, the idealistic painter Mario Cavaradossi. Michael Volle is the menacing Baron Scarpia, the evil chief of police. Bertrand de Billy conducts the electrifying score, which features some of Puccini's most memorable melodies.
Run time: 3 hours 17 minutes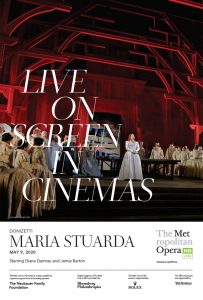 At the Classic
MARIA STUARDA
May. 9 2020 – 9:55 AM
SYNOPSIS
Donizetti's drama, focused on the political and personal rivalry between two queens, returns to the Met with Diana Damrau as the doomed Mary, Queen of Scots, and Jamie Barton as her rival, Queen Elizabeth I. Stephen Costello sings the role of Mary's lover, Leicester; Andrzej Filończyk is the chancellor Cecil; and Michele Pertusi sings the Earl Talbot. Maurizio Benini conducts Sir David McVicar's sweeping production.
Run time: 3 hours 06 minutes